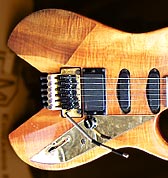 The Ibanez Voyager is without doubt the guitar that Reb is most associated with, particularly in the early years of his career.
Designed by Reb "on the back of a napkin on a plane flight when I'd had quite a bit to drink!" the guitar's design echoes design features of some of Reb's favourite guitars of the time, in particular the Steinberger GM model with its rear cutout.
Reb worked closely with Mace Bailey from the Ibanez Custom Shop to select exotic woods for the guitar that not only looked great but also had fantastic tonal qualities. Hawaiian Koa was used for the Voyager's top, coupled with more traditional mahogany for the body's back. A 1 piece Bolivian Rosewood (also known as Pau Ferro) neck and fingerboard was used as this wood is known for its tight grain pattern and strength under stress. Reb has commented many times that Pau Ferro helps to keep his guitars in tune through changes of temperature while touring.
The Voyager featured the original Floyd Rose double locking tremelo system employed on all Reb's guitars, with a rout behind the bridge to facilitate his trademark pull-ups on the bar. In addition, EMG active pickups were used - an 85 in the bridge position and 2 single coil SA's.
During its years of production, the Voyager appeared in many different variations, ranging from the top of the line RBM2NT to the Korean-made RBM10 models. Reb is less than complimentary about all but the RBM2NT - "The Ibanez RBM2NT with the Koa top is awesome. The rest of them suck."
The original RBM2NT guitars now command high prices and can be found occassionally on Ebay, on Rich Harris' excellent Ibanez Rules website at www.ibanezrules.com and at Ed Roman Guitars.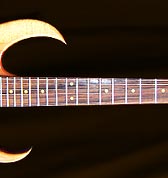 The photographs of the Voyager shown above and to the right were kindly supplied by Tim Maclean.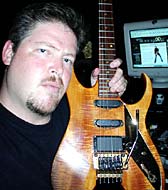 Tim is now the proud owner of Reb's original Voyager prototype made by Mace Bailey in a deal involving copious amounts of cash and Coors Light! The guitar is possibly one of the most battlescarred you've ever seen, with even the plastic on the EMGs worn away! This guitar has toured the world many times and still sounds amazing.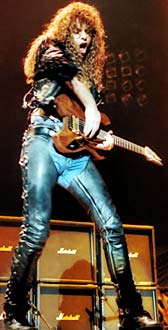 The photographs below are of another Mace Bailey Ibanez Custom Shop Voyager, now owned by Reb's friend Dan Newman.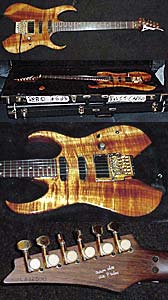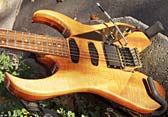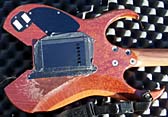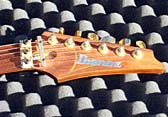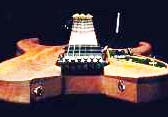 The photograph below shows the production RBM2NT from the 1991 Ibanez Catalogue. It differs from Reb's own models by using an Ibanez Edge trem system and an EMG 89 humbucker.